Image of the Week
03-30-2019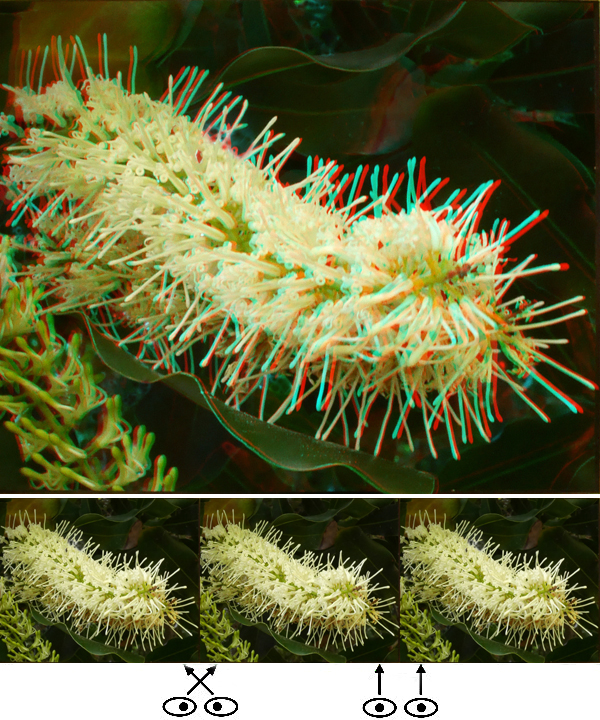 Macadamia Nut Blossom at Paleaku Gardens

Hi All,
Recently on the big island of Hawaii, we visited Paleaku Gardens Peace Sanctuary a large, beautiful botanical garden located in Captain Cook, twelve miles south of Kailua-Kona. Paleaku Gardens is a place dedicated to the advancement of individuals toward peace and harmony. When on the big island be sure to drop by and spend some time. Check out their website at http://www.paleaku.com/.
While this looks like an elaborate caterpillar, it is in fact the blossom of a macadamia nut tree. It was shot with a Panasonic Lumix GX7 macro camera with a 3-D lens, and I used frame sides for phantogram processing. The actual width of this shot was approxmiately four inches.
For me Paleaku Gardens was a stereographer's paradise where I found numerous excellent photo opportunities. You can expect to see several images from there in the coming weeks, and I invite you to check out a page I created with a number of anaglyph images from there at http://3ddigitalphoto.com/ShowEvent.asp?show=PaleakuAnaglyphs.
Barry Rothstein
I send out a weekly email of these. If you'd like to be included, please go to the contact page and send me an email.
Previous Images of the Week