Image of the Week
03-11-2023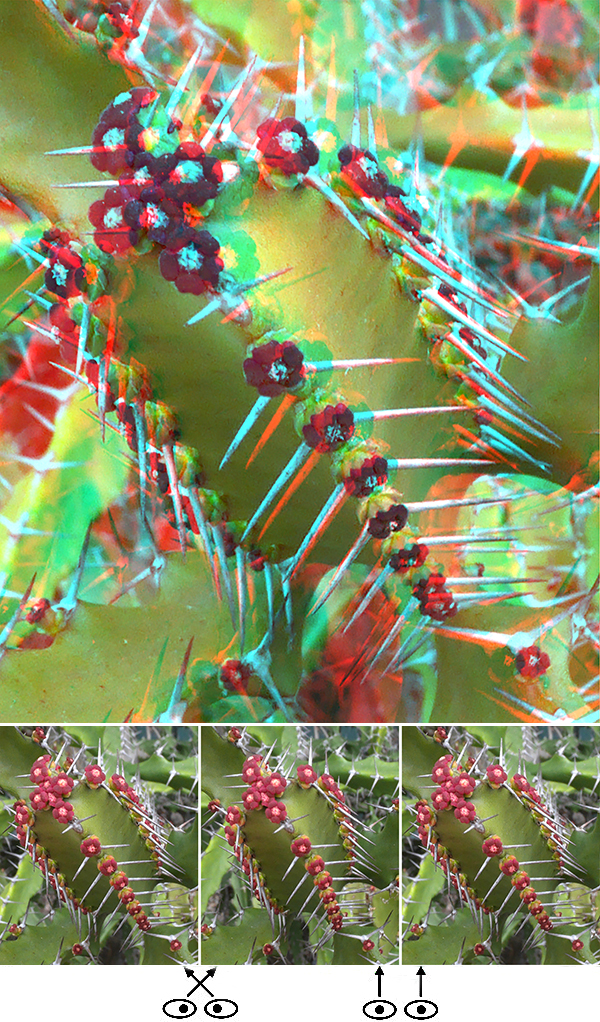 Cactus with Tiny Red Flowers - and a call out to teachers

Hello Friends,
Spring is slowly starting to show itself here, more slowly than I wish. We've mostly had cold days (cold for southern California that is) and lots of rain. Most of the interesting blossoms I've found are from cacti and other succulents. I couldn't identify this variety with the Plant Net app on my phone. If anyone knows what it is I'd like to know.
I shot this image with a Panasonic Lumix GX7 macro camera with 3D lens, using frame sides surrounding the subject for phantogram processing. These cactus branches and flowers are quite small. The width of this image is approximately 1-1/2 inches (appx 4 cm). I darkened the red for the anaglyph version of the image to cut down on retinal rivalry.
If you're free this coming Thursday night (March 16) and anywhere near Los Angeles, consider popping in on the LA3dClub Meeting near USC at the Velaslavasay Panorama from 7:00 to 9:30. There will be an image competition, and the featured speaker will be Perry Hoberman, who is a well known local media artist, educator and musician. He'll be showing his experimental work he calls "Phanto-Popup: A New Extension to the Phantogram", essentially a multi-surface phantogram. Info on the meeting and his presentation at https://la3dclub.com/12925/
Hello Teachers, I know there are a number of you out there getting this. When I printed Macrophant 3D at the end of 2020 I produced 1500. I'm sitting with around 950 left. I've been trying to get them used in schools as supplementary text for science, art, photography, or computer classes. So far I've not had much luck with it, even on the basis of donating them. If you know the book and think it belongs in your classroom, and want to use it, let me know.
Regards,
Barry Rothstein .
I send out a weekly email of these. If you'd like to be included, please go to the contact page and send me an email.
Previous Images of the Week