Image of the Week
10-14-2017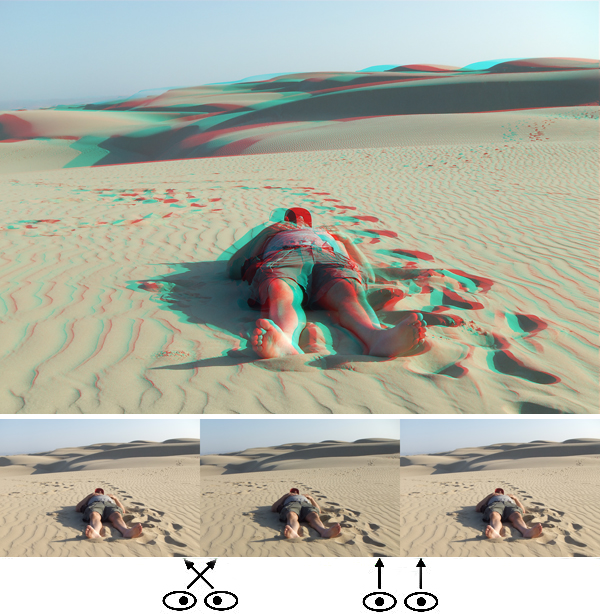 Nap in Dune by Takashi Sekitani
Hi All,
Once again I'm sending out my weekly image a little early to let you know about some upcoming activities. On Friday night (10/13) from 6pm to 10pm, along with other LA3DClub members, I'll be exhibiting some composite phantograms at Pasadena Art Night. We'll be at the Armory Center for the Arts, at 145 N Raymond Avenue. I'll also be selling Phantograms from Nature, Pop-Up 3D, and Crossview 3-D for just $5 each, 90% of which will be donated to four important organizations.
On Saturday and Sunday (10/14 - 10/14) please drop by our house, 601 Ohio Avenue in Long Beach, as we'll be participating in Long Beach Open Studio Tour from noon to 5pm. 3-D shooting, books for $5 each (90% donated), note cards for $2 each. http://lbopenstudiotour.com/.
This week's image came from a trip Betsy and I took after 3D-Con with Takashi Sekitani and Masuji Suto, up to the central California coast. We were joined by local stereographer Abe Perlstein, and on our last full day, a Thursday, Abe led us on a whirlwind tour of the area. The day included:
1) Walking the beach at Estero Bay, just north of Cayucos (lots of bird sightings)
2) Smoked fish tacos at Ruddell's Smokehouse in Cayucos (very good)
3) Abe's standing 3-D exhibit in Morro Bay (601 Embarcadero)
4) Sea otters cavorting by Morro Rock (kelp beds on south side adjacent to the parking lot)
5) Black Hill Trail overlooking the town and surrounding area of Morro Bay
6) Oceano Dunes in Grover Beach (where this photo was shot)
7) Kelsey See Canyon Vineyards on the outskirts of San Luis Obispo (good wines and ciders)
8) Bar-b-que dinner at the Farmer's Market in San Luis Obispo
Takashi found me in this position and quietly took a few shots.
Barry Rothstein
I send out a weekly email of these. If you'd like to be included, please go to the contact page and send me an email.
Previous Images of the Week