Image of the Week
05-16-2020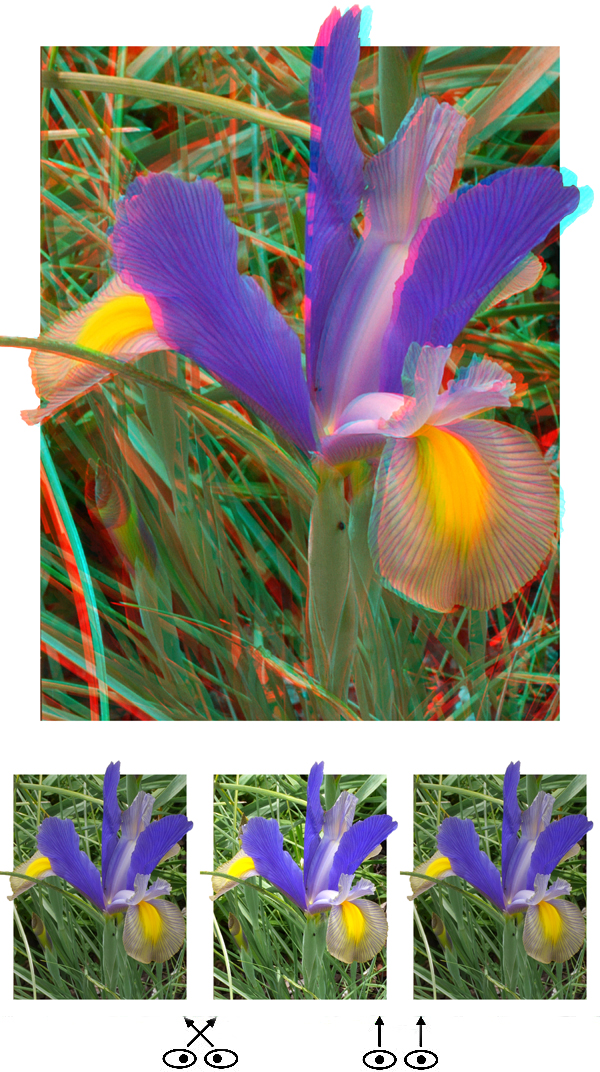 A Moment in Time

Hi All,
I took a few of shots of this iris and its sisters on a neighborhood walk recently. As with most of my favorite images, it was a lucky shot, a combination of diffuse natural light and the precise moment in the life of this flower. I love the translucent petals, their clearly defined veins, and the broad range of bright colors in this iris. I went back two days later, hoping for a re-shoot, but they were not the same. In this lovely form they only existed briefly.
Hopefully you can freeview the image from the 3-set below, but anaglyph is pretty good here too. This image was shot with a Panasonic Lumix GX7 macro camera with a 3-D lens, using frame sides for phantogram processing. If you email me back a mailing address (in the USA) I'll mail you a note card of it.
The rule of law took a big hit this week as we saw our "justice" department try to drop charges against Mike Flynn, and release Paul Mannefort from prison. Now Trump is screaming "OBAMAGATE" and calling for charges to be levied against Barack Obama and Joe Biden. Really! I couldn't make this stuff up.
On the pandemic front it looks like we're in this for a long haul. I liked Mario Cuomo's comment: If you're wondering who's going to protect you from the virus, the answer is that it's mostly just you. Many to most of us have adjusted and will continue to exercise caution in our daily activities, especially old farts like me. Businesses will make modifications toward safer work places. Some will bounce back, others will have to wait, and some will fail. By the end of this year hundreds of thousands of our country men and women will die from the virus. And some day we will get through this.
Wishing you all fine moments of clarity and good cheer,
Barry Rothstein
I send out a weekly email of these. If you'd like to be included, please go to the contact page and send me an email.
Previous Images of the Week