Image of the Week
07-10-2021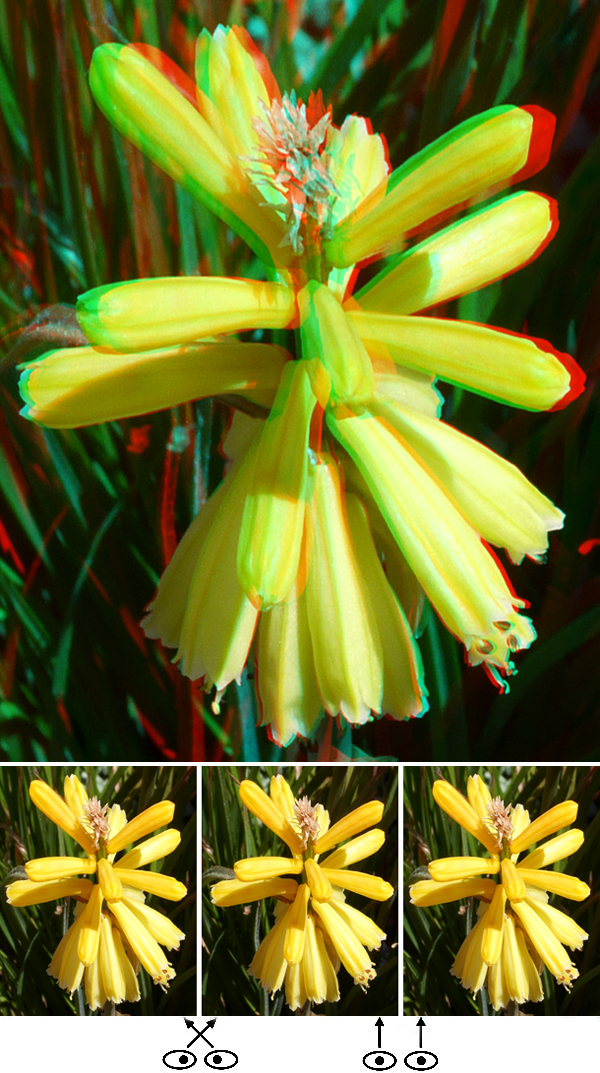 Summer blossom

Hello Friends,
As we get more into the summer, with the exception of some truly outstanding magnolia blossoms I'm not finding much I want to shoot as in the spring. I found this at a home in Burien, Washington on a strange 107 degree fahrenheit day. Using the phone app Plant Net I identified it as kniphofia uvaria. According to Wikipedia, Kniphofia is a genus of perennial flowering plants in the family Asphodelaceae, first described as a genus in 1794. Species are native to Africa. Common names include tritoma, red hot poker, torch lily and poker plant. If it's something else please let me know. I took this shot with a Panasonic Lumix GX7 using a 3-D lens made for that camera and used frame sides for phantogram processing.
Reminder that I've been posting on Instagram lately, so check out my posts @3ddigitalphoto, or search by my name.
For all current and prospective 3-D fans, next month from August 12-15 the National Stereoscopic Association will be presenting its 2021 convention online as it did last year. Lots of cool presentations and a great way to discover what's going on in the 3-D world. I'll be presenting a short workshop on shooting phantograms of dogs and kids. Details and info at https://www.3d-con.com/.
And this coming Thursday July 15 at 7:00 pm pacific time you could attend the Los Angeles 3-D Club's online meeting, where we'll be showcasing our Image of the Year presentation. All are welcome to attend. Info and zoom link at http://la3dclub.com/july-virtual-meeting-71521/.
Shameless commercial message: much thanks to those of you who've ordered a copy of Macrophant 3D. I hope it's provided you hours of entertainment, and was ultimately worth the money. To the rest of you, maybe someday. I can assure you it's my best book. Info, thumbnails of the images, and ordering at http://macrophant3d.com/, and use promo code 25 for $25 delivered (USA only). Outside the USA $20/book plus shipping, email to see what's best shipping cost.
Barry Rothstein
I send out a weekly email of these. If you'd like to be included, please go to the contact page and send me an email.
Previous Images of the Week