Image of the Week
06-23-2018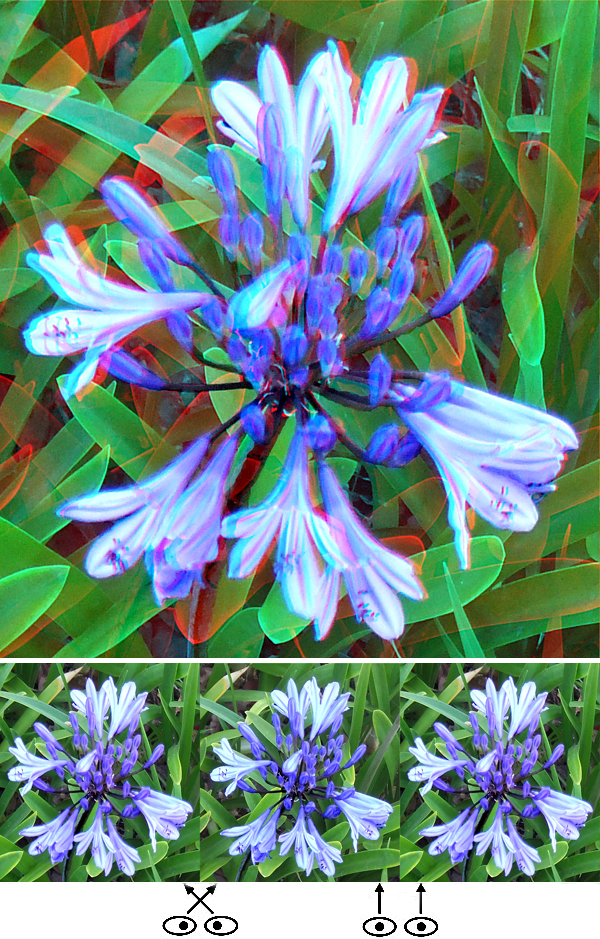 Agapanthus and Retinal Rivalry

Hi All,
A flower very popular in our neighborhood is Agapanthus, either in the blue variety seen here or with all white flowers. The name comes from Greek (agape - "love" and anthos - "flower"). Some species of Agapanthus are commonly known as Lily of the Nile, despite not being lilies at all.
I took this shot with a Fujifilm W3 using frame sides for phantogram processing. As to the retinal rivalry, alternately close your right and left eyes while wearing red-cyan anaglpyh glasses and you'll see green and blue through the cyan lens and monochrome gray through the red lens. I think you'll enjoy the image a great deal more if you can either parallel or cross-eye freeview the three-set below.
I'm not wishing to rant too much today, although there's plenty to rant about. I think the current administration has finally gone too far with its zero-tolerance immigration policies. Little by little I'm encouraged to see a few prominent conservative politicians and commentators start to denounce Trump and his hideous practices. I hope and pray for the floodgates to open, and for more of them to show courage, leadership and determination, and take us beyond this ugly period in American history.
Barry Rothstein
I send out a weekly email of these. If you'd like to be included, please go to the contact page and send me an email.
Previous Images of the Week