Image of the Week
04-16-2022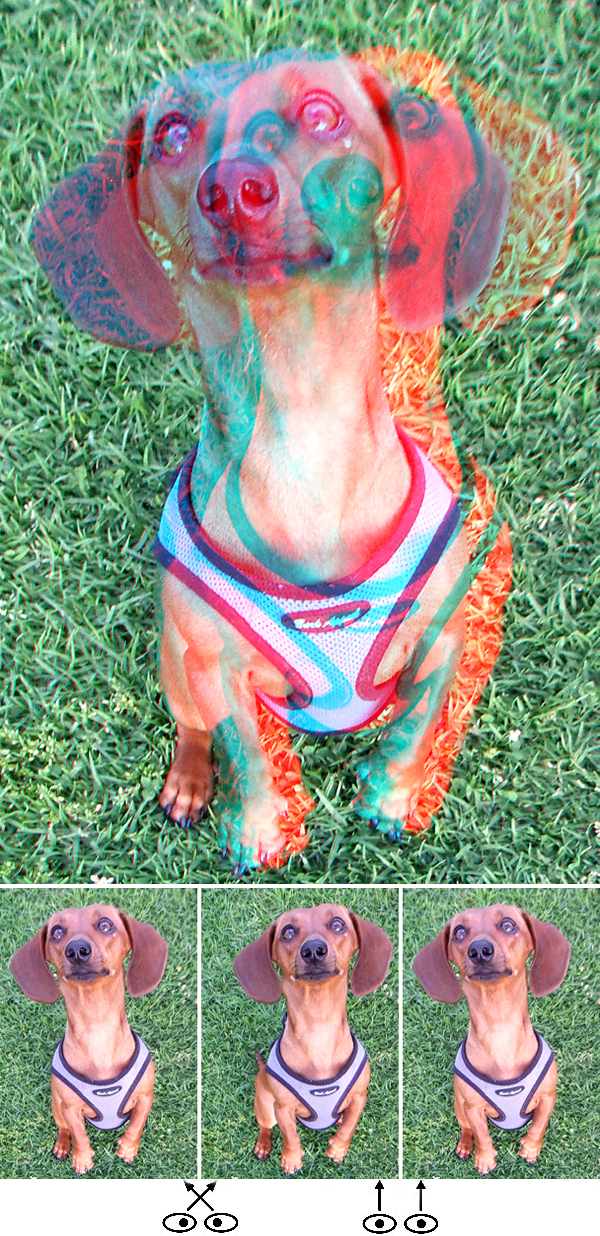 Chihiro

Hello Friends,
Chihiro is a dachschund and new member of our local dog pack. This is a typical pose for him I'm told when working to get treats. I took this shot with a Fuji W3 and processed it into a phantogram but approximating a rectangle (actually a trapezoid) on the ground in the right eye shot and matching pixels of the grass in the left eye shot.
Approximately a year ago I joined PSA, the Photographic Society of America. I don't know why it took me so long to check it out and sign up, but I'm glad I did. I've entered and even won a couple of image competitions, and was asked to contribute to a "PID Digital Dialogue Member Showcase", essentially an exhibit of images from members of PSA's study groups. You can see my image and those of other photographers at http://psadigital.org/. I feel honored to have been included in that exhibit.
Wishing you all chag sameach for Passover, happy Easter, and I'm not sure what words to use for those of you observing the holy month of Ramadan.
I feel like I should be ranting, shouting to the moon and sky over what I'm seeing in the news every day from Ukraine, Russia and the surrounding countries. Almost as disturbing is the extent to which republicans in the USA have married themselves to Trump and his lies, to minority rule and white supremacy. They have no guiding principles other than obtaining power and exerting their will over women, blacks, gays, and anyone not them. The next elections we will be deciding if democracy as we know it will survive here, or if autocracy will take over.
Regards,
Barry Rothstein
I send out a weekly email of these. If you'd like to be included, please go to the contact page and send me an email.
Previous Images of the Week