Image of the Week
04-30-2016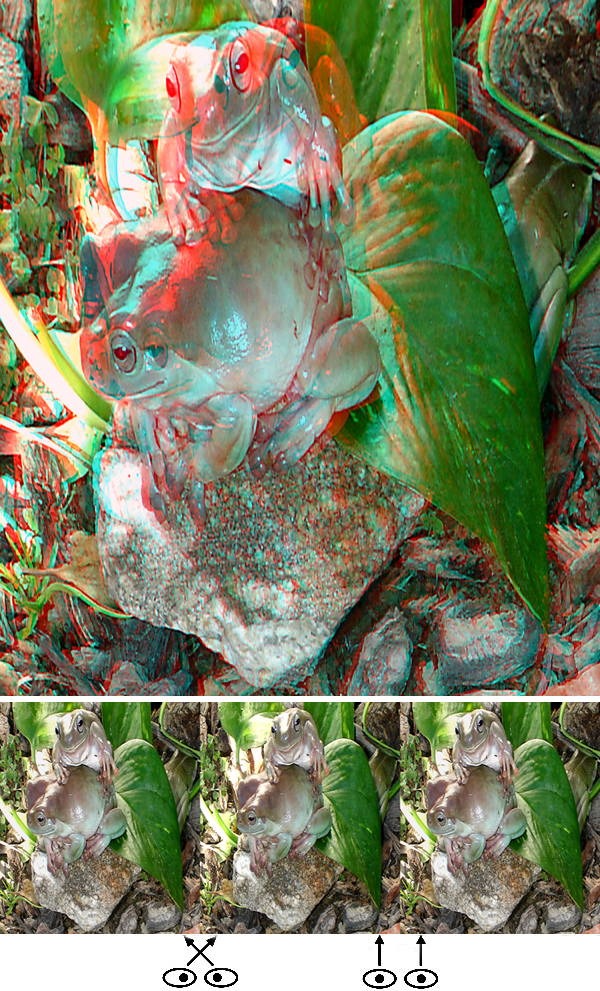 Three Frogs - Tree Frogs

Hi All,
Phantograms from Nature (2005) was my first publication, a coffee table book of nature photography showcasing photographic phantograms. For its cover I chose a cool mushroom shot I called "Fairyland Mushrooms". Perhaps I should have put an anaglyph on the cover, but instead chose to use a 2-D image, but one that had been processed in phantogram format. "Fairyland Mushrooms" was also presented in the that book as an anaglyph phantogram.
When it came to choosing a cover image for Pop-Up 3D (2007), I was torn between two images of White's Tree Frogs. Ultimately I decided to follow the format of using one as a 2-D cover image, phantogram processed, and the other one in anaglyph on the last page of the book. So here it is for the first time as a glorious 3-D phantogram image. Enjoy! It was shot with two Sony V3 cameras, a Lanc Shepherd device to synchronize the cameras, and aluminum frame sides for phantogram processing.
Nicknamed "humping frogs" I love this image, the eye contact and knowing look of the frog on top, the third frog mostly hidden. While its backdrop looks pretty exotic, in fact it was staged in the back yard of a friend, Thorsten Pape, the son-in-law of my brother-in-law's brother-in-law. Thor is a professional animal handler, doing children's partys and events. Check him out at http://www.reptilefamily.com/about/about-famthors.html.
In fact he tells me that these frogs typically pile on top of each other in comfort and sociability.
If you'd like to also see the image of White's Tree Frogs shown, which I named "Contentment" and is on the last page of Pop-Up 3D, click here.
Barry Rothstein
I send out a weekly email of these. If you'd like to be included, please go to the contact page and send me an email.
Previous Images of the Week