Image of the Week
07-30-2022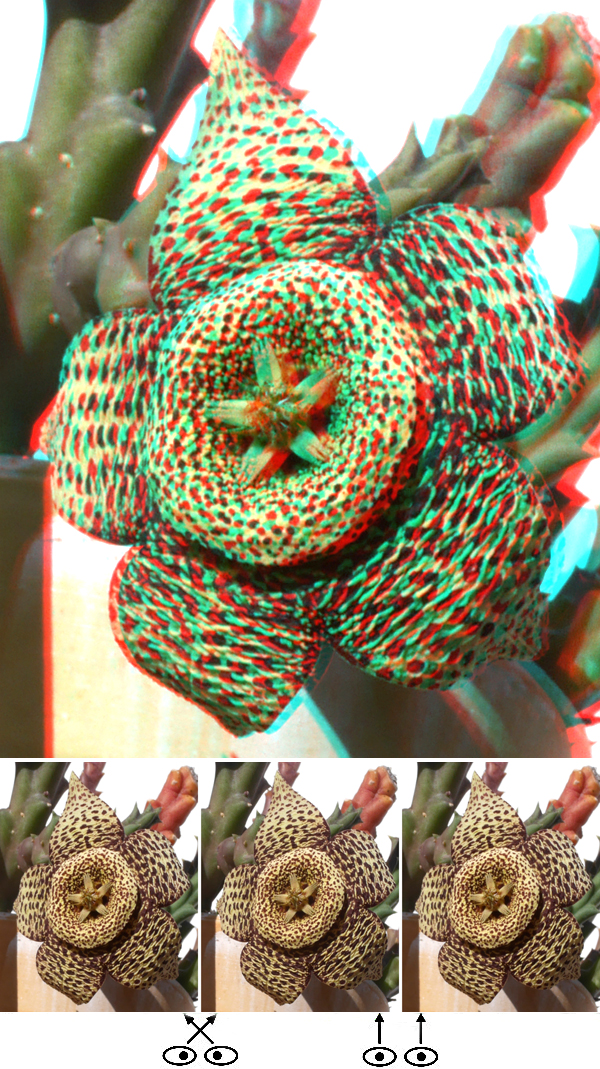 Star Flower

Hello Friends,
According to Wikipedia, orbea variegata is a species of flowering plant in the family Apocynaceae, known as the star flower. It is native to the coastal belt of the Western Cape, South Africa, growing actively during the winter rainfall season. It is an invasive species in southern Australia.
My friend Paul called me to come over and photograph this one in his yard, and I've since ordered some seeds. I took this shot with a Panasonic Lumix GX7 with 3-D lens, using frame sides for phantogram processing.
3D-Con 2022 is happening in the coming week, this year in Tacoma from August 1-8, at last getting back to the live in-person gathering we've not had since Covid. It'll be a busy few days as I'll be re-connecting with old friends, teaching a workshop, exhibiting in the art gallery, showing a stereo-theatre video of macro shots from Costa Rica, and hawking my books and cards in the trade fair. If you're not attending here will not be a Zoom component to this year's 3D-Con due to a lack of volunteers, but if you have VR gear you might be able to have some fun in the VR rooms, info on them at https://www.3d-con.com/vr.php. Info on 3D-Con in general at https://www.3d-con.com/.
Regards,
Barry Rothstein
I send out a weekly email of these. If you'd like to be included, please go to the contact page and send me an email.
Previous Images of the Week