Image of the Week
12-03-2022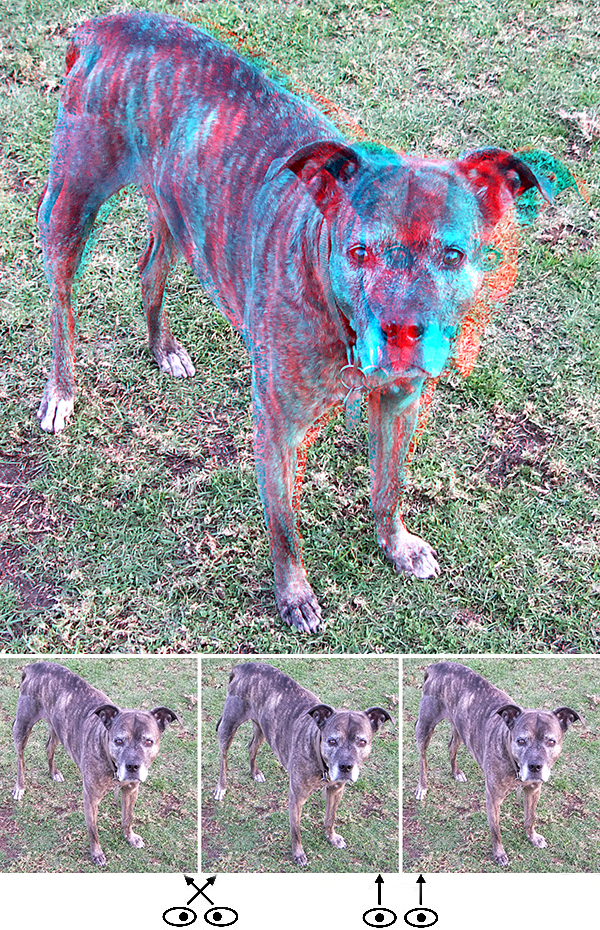 Pepper is 12

Hello Friends,
If you've been getting my image-of-the-week for some time you probably recognize Pepper. We found her at the Long Beach Animal Shelter in early 2011, approximately 3 months old, brindled head to toe, a happy, happy, sweet girl, thoroughly undamaged by life. Without reservation I can say she's my all time favorite dog, and she's appeared in my image-of-the-week blog several times. She had a knee operation recently, but aside from walking a bit oddly at times and greying in the muzzle, she's doing very well.
In fact you can win a free signed copy of Macrophant 3D and an accompanying note card of Pepper at 3 months old mailed to you (only within the USA), if you email me back correctly telling me how many times she's appeared in my IOTW blog, and the dates she's appeared. First three correct responses win book and note card prizes. Thumbnail images of all her appearances can be found at http://3ddigitalphoto.com/ImageofTheWeek.asp.
If you don't want to search through almost twelve years of these images, you also have the option of buying my books, and at a great holiday price. On my website use Promo Code HALF to get books at half price and note cards for $2/each. As an added incentive to get my newest book, Macrophant 3D, for every two you buy I'll send you a third one for free. Order at http://3ddigitalphoto.com/Products.asp
Tomorrow Sunday December 4 I'll be exhibiting and selling books, cards and whatnot at the Friends of Bixby Park's Christmas Art Fair from 11am to 2pm in Long Beach. Please drop by and say hello. Bring your kids and/or dogs and I'll shoot them in 3D at no cost.
Regards,
Barry Rothstein .
I send out a weekly email of these. If you'd like to be included, please go to the contact page and send me an email.
Previous Images of the Week