Image of the Week
03-31-2012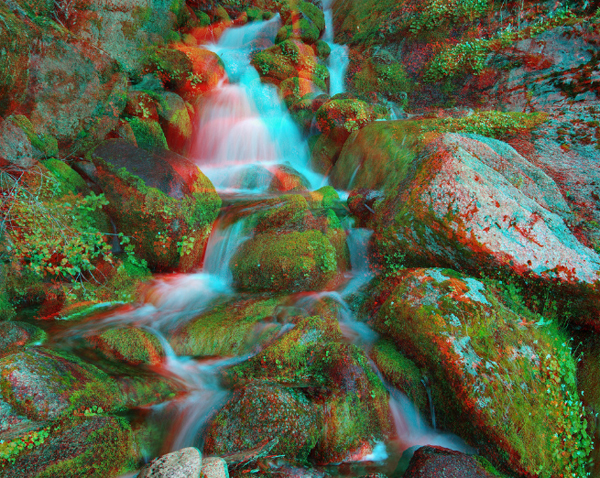 Tiltill Cascade by David M. Lee

Hi All,
One of my favorite stereographers is David Lee. When I first got into 3-D and attended a NSA convention I saw some of his images, gorgeous stereo nature shots mostly. Every year I see him at NSAs, and every year I hang out at his exhibit space to look over what he's brought. I'm pleased to say that David's got up a good website, and he, too is now putting out his own 'Image of the Week' pieces. Do yourself a favor and click to go to http://www.davidmleephotography.com. He's laid out for 3-D nicely, too. You can opt to see his images in your choice of anaglyph, parallel view or cross view.
David call this shot "Tiltilt Cascade with Moss". Quoting him directly, ... "It was shot with 2 Olympus E-P1 cameras (micro four-thirds). Camera separation was about 4 inches. It was made on a hike at Hetch Hetchy which is reservoir for the city of San Francisco, but is within the boundary of Yosemite National Park. This particular spot is about 6 miles from the trail head (at O'Shaughnessy Dam). I have hiked this trail probably 20 times in the last 30 years. It is one of the most beautiful trails I've ever been on and I am planning another trip in the next month or so. This shot was made on May 27, 2011. ... I am primarily a nature photographer (landscapes as opposed to wildlife).
Also note:
CALL FOR ENTRIES: in the "First Annual Inter-Galactic Phantogram Competition and Exhibit". Entry deadline is May 15, 2012. I've announced it on some of the 3-D sites, and I invite you to spread the news. Stereographers Achim Bahr, Terry Wilson, and Steve Hughes will be the panel of judges. Categories are be: 1) Nature; 2) Live Subject; 3) Still Life; and 4) CGI. Images will be judged on iPads, and are to be submitted in RGB .JPG files. The iPad's native resolution is 1024x768 pixels, and images can be submitted either in vertical or horizontal orientation. Submitting images denotes a willingness to have them posted online, and to be exhibited in print or digital form. You may be asked for higher resolution images for print in a gallery exhibit. There will be prizes for winners, although expect mostly the glory of having your images admired. A maximum of six images per entrant will be allowed, and each will be allocated to one or more categories as applicable.
Barry Rothstein
I send out a weekly email of these. If you'd like to be included, please go to the contact page and send me an email.
Previous Images of the Week