Image of the Week
03-11-2017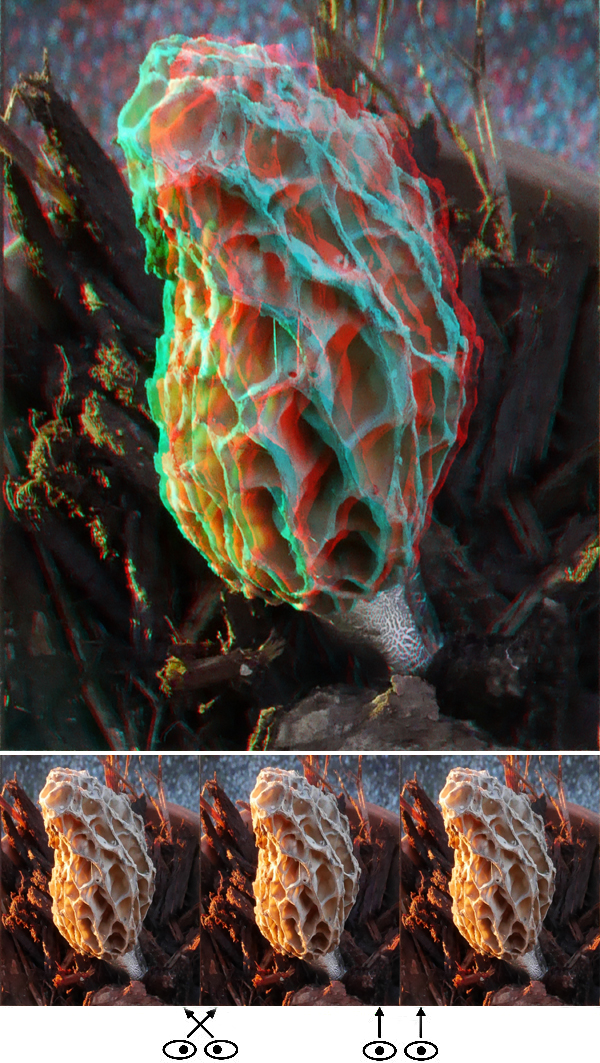 Morel Mushroom in Sunset Light
Hi All,
My neighbor and buddy Eric found this morel mushroom on a hike somewhere around San Diego recently and fortunately thought about how I might like to photograph it. I dropped it into a small pot with wood mulch, and headed out into some beautiful late afternoon sunset light.
It was shot with a Panasonic Lumix G7 with a 3-D lens, and frame sides for phantogram processing. While the dark red wood chips makes it questionable for anaglyph, I love the lighting, and clearly the subject is wonderful for 3-D.
A month and a half into my fundraising campaign on behalf of Planned Parenthood, the Southern Poverty Law Center, the American Civil Liberties Union, and the Environmental Defense Fund, I'm happy to say that so far I've sold around 135 books, totaling approximately $1300, 90% of which will be donated to these organizations.
This is an ongoing effort, so please help by emailing back the names and locations of fun, eclectic gift shops in your locality.
Barry Rothstein
I send out a weekly email of these. If you'd like to be included, please go to the contact page and send me an email.
Previous Images of the Week