Image of the Week
10-12-2019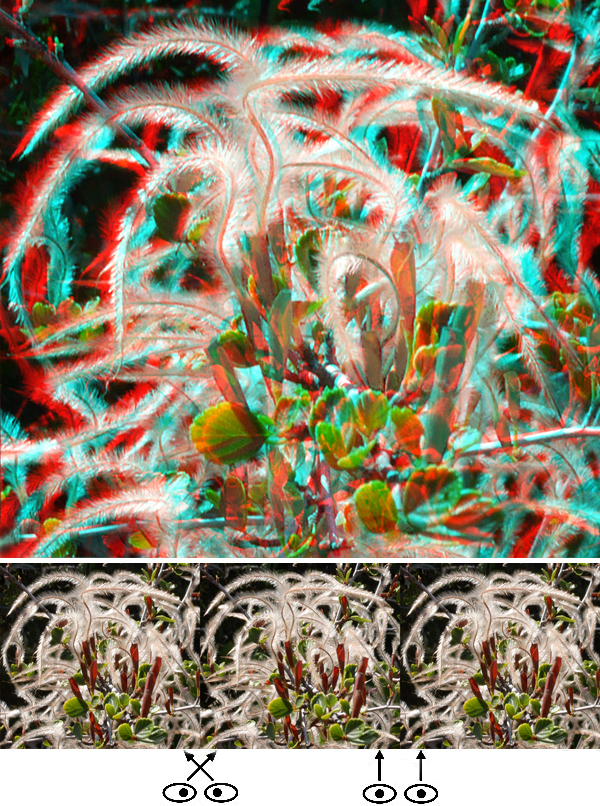 A Spectacle in Nature

Hi All,
I found a few of these on a hike on the Cerra Alto Trail in central California. It's another 'What is This?' for me. If you know, I'd like to hear from you. These were found in close proximity to Pipestem Clematis, which were the subject of my 'Image-of-the-Week 09-14-2019'. I can't help but suspect them to be related in some way. I felt extremely lucky to find two such specimens in one hike.
Showing this image in anaglyph was a challenge. The dark maroon "vases" (for lack of actual terminology) would look black in anaglyph, so I modified the hue and lightness of that color before converting to anaglyph. Not great anaglyph, but acceptable, and overall I really like this image. It was shot with a Panasonic Lumix GX7 using frame sides for phantogram processing.
If you'd like to download a cross-eye version of this in higher resolution, you can access it in Dropbox at https://www.dropbox.com/sh/2j94nkndlgaozd7/AAD2uwqYEbJrMCK4oZdHqLrja?dl=0.
Details that came out this week of Trump's "mastermind" Ukraine scheme have been amazing and bizarre. Going on for months before the fateful July 25 phone call, he involved a number of US government officials and eliminated several other career officials in the way. All who worked the plan, including Pence, Pompeo, Giuliani, Sondland, and several others knew that what they were doing was corrupt and illegal, but nonetheless continued on that path.
Barry Rothstein
I send out a weekly email of these. If you'd like to be included, please go to the contact page and send me an email.
Previous Images of the Week