Image of the Week
10-06-2012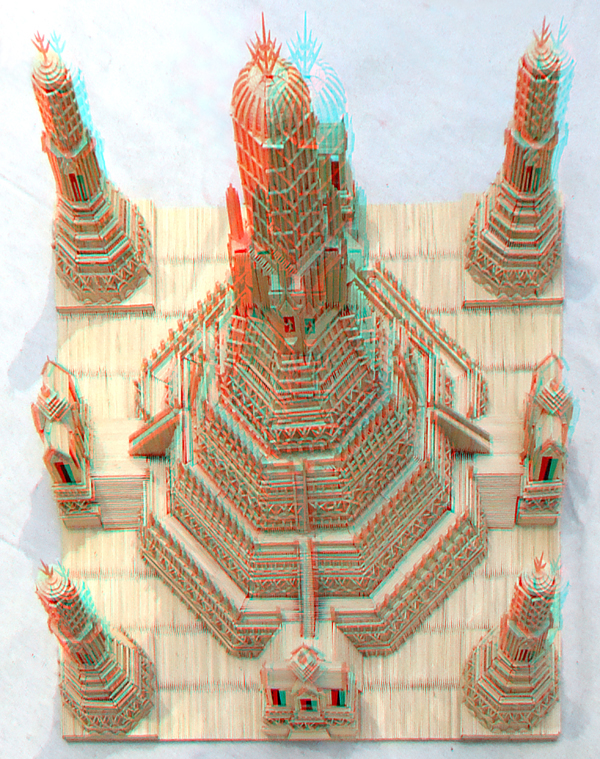 Scale model of Wat Arun in Bangkok, Thailand -- Made of toothpicks by Stan Munro

Hi All,
Last weekend's Maker Faire provided a wealth of photo opportunities. One of the most amazing displays I saw was a number of 1:164 scale model buildings by Stan Munro from a collection he calls Toothpick World. Some day I hope to visit him and carefully photograph some of his structures. My favorite was a model of Yankee Stadium he spent three months building, but I couldn't get it with a good enough backdrop and angle to do a decent phantogram of it. Check out photos of Stan's phenomenal art at http://toothpickworld.com.
This is more or less a phantogram, taken point and shoot style with a Fuji W3. You're welcome to print it out to see if properly back from an angle, or better yet view it on an RGB device such as an iPad or other tablet device.
For those who did not see Visual Stereo in Long Beach, or even those who did, you can see much of what was shown at Pasadena Art Night at the Armory on October 12 from 6pm to 10pm.
Barry Rothstein
I send out a weekly email of these. If you'd like to be included, please go to the contact page and send me an email.
Previous Images of the Week