Image of the Week
06-24-2017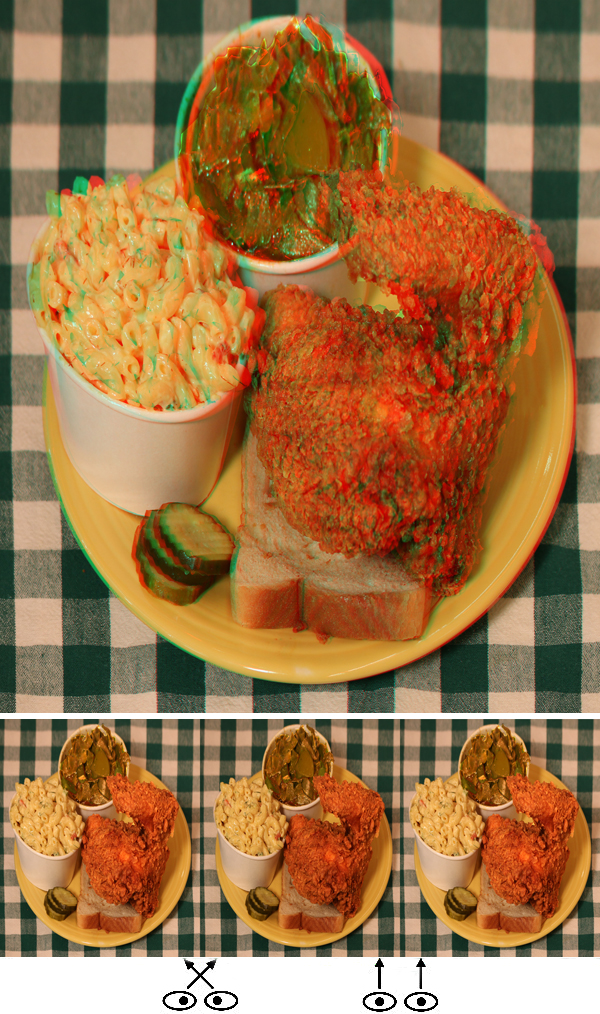 Nashville Hot Chicken at Howlin' Ray's
Hi All,
Husband and wife team Amanda and Johnny Ray Zone have a serious passion for fried chicken. Howlin' Ray's is in the Far East Plaza of LA's Chinatown at 727 N. Broadway. If you read reviews of the place, people tell you they had to wait two hours to get fed, and more amazingly, that it was worth it. Their website is https://www.howlinrays.com/.
Pictured here is their Country style (no heat), only because red seasonings won't work well in anaglyph 3-D, along with bread, pickles, creamy macaroni salad, and braised collard greens. They're best known for spicy chicken though, from Mild (brush of heat), Medium (feel the burn), Hot (burn, baby, burn), X-Hot (you've been warned) to Howlin' (can't touch this. 10++). Lightweight that I am, my favorite is the mild.
The About Section of their website says, "We spent time in Nashville, learning about the people, the culture and the dish. We noticed that every single person we saw eating Hot Chicken was smiling and happy, even while in pain for some! Whether in complete solitude with their xhot or with a group of friends, it was all about loving and sharing the moment! We both knew in a very short time that the culture of Hot Chicken embodied all of our philosophies on food."
I took this shot with a Canon EOS 70D mounted onto a slide bar, and I used the green checked tablecloth to provide a rectangle for phantogram processing.
Barry Rothstein
I send out a weekly email of these. If you'd like to be included, please go to the contact page and send me an email.
Previous Images of the Week