Image of the Week
02-25-2012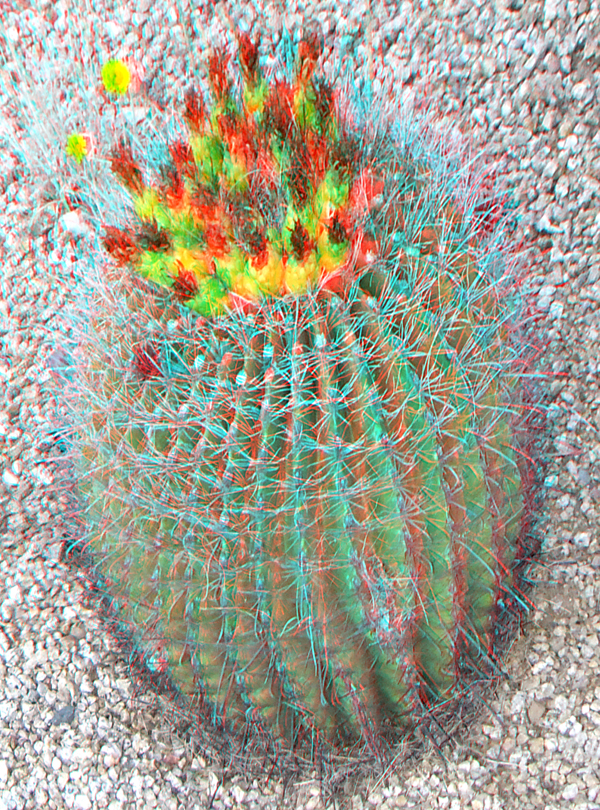 Barrel Cactus with Fruit

Hi All,
This weekend we're exhibiting in Fountain Hills at the Great Fair. If you're in the area drop by and say hello. We're in booth C140 about as far from the fountain as possible.
This shot was taken at our friend Dave's house. I'd hoped for sunset lighting, but by the time we got home from our event today his entire yard was in shadow from Camel Back Mountian. It is a phantogram. You're welcome to print it out, so you can see it properly, back from an angle. It should also look very nice on an iPad or an Android.
CALL FOR ENTRIES: in the "First Annual Inter-Gallactic Phantogram Competition and Exhibit". Entry deadline is May 15, 2012. I'll shortly start announcing this on the 3-D sites, and I invite you to spread the news. I've lined up two out of three judges, stereographers Achim Bahr, and Terry Wilson. Categories will be: 1) Nature; 2) Live Subject; 3) Still Life; and 4) CGI. Images will be judged on iPads, and are to be submitted in RGB .JPG files. The iPad's native resolution is 1024x768 pixels, and images can be submitted either in vertical or horizontal orientation. Submitting images denotes a willingness to have them posted online, and to be exhibited in print or digital form. There will be prizes for winners, these will be announced soon, as hopefully I'll be able to line up a few sponsors.
Barry Rothstein
I send out a weekly email of these. If you'd like to be included, please go to the contact page and send me an email.
Previous Images of the Week