Image of the Week
06-27-2020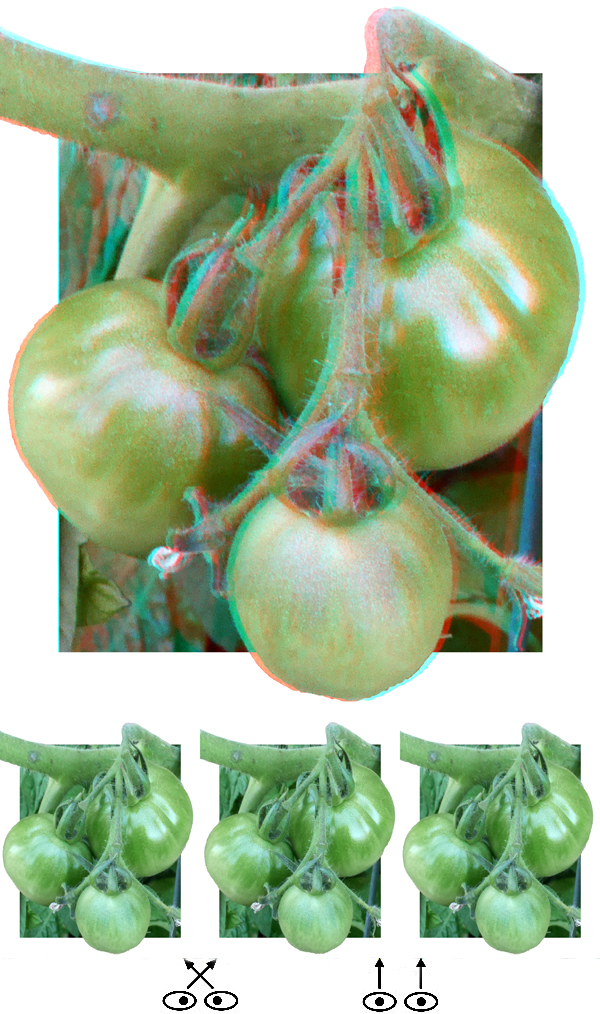 This Time of Year (and a memorial and short rant)

Hi All,
I got off to a little bit of a late start on planting tomatoes, so it's only just now they're beginning to be ripen. These aren't ready to eat yet, but will be in a week or two. I took this shot with a Panasonic Lumix GX7 with 3D lens, and frame sides for phantogram processing. I assembled my right and left shot into an anaglyph using StereoPhoto Maker and chose a "dubois" anaglyph since I like it more with this color arrangement than a standard "color" anaglyph.
As I write this I'm in Las Vegas, a summer destination I'd recommend to no one. I'm here to be with my sister Joy. Her husband, Pat Demain, died on Wednesday. I'd like to show you a phantogram headshot of Pat today, but it'll need to wait until next week, as I don't have the files of it on my laptop. Pat was a good guy, an accomplished musician, keyboard player, and arranger for quite a few notables in the Hawaii music scene. Since 1991 he and my sister have been in Las Vegas, where he taught music, performed, and arranged. He died from his lifetime affliction of diabetes and resulting heart ailments. His diabetes was genetic, hereditary. He was never overweight. A great friend of his, a singer, last night described how more than any other accompaniest he trusted Pat to work with him, not just play along, when he sang. I'll choose mostly to remember Pat for his quiet warmth, his fun, quirky sense of humor and his love for the outdoors, fishing, and hunting.
As for the rant, I'll be brief with my absolute disdain for our president and his enablers this week. As with practically every week since he took office, he's continued to accomplish new lows in leadership and acting in the interests of our country and people.
It's beyond despicable how he and his lapdog Mike Pence talk of celebrating the great job they're doing on defeating the coronavirus, while returning to holding cautionless campaign rallies. He's turned wearing a face mask, the single most effective way an individual can help contain the virus, into a show of weakness, an anti-rugged individualism stance, an us-versus-them, for-me-or-against-me statement, while the world watches in horror and fascination at our increasing rate of infections and deaths.
Yesterday's news cycle brought us word that our intellegence sources briefed Trump and his national security officials in March that Putin put cash bounties on the deaths of US soldiers in Afganistan. Trump's response has been to try to lift sanctions on Russia, remove troops from Germany, and work at reinstating Putin in the G7 economic organization.
Nixon was a crook, and paid the price. Trump is a killer. The blood of over a hundred thousand of our citizens and non-citizens are on his hands, and on the hands of his enablers in the Senate and conservative media who to this day continue to downplay COVID-19 as just another flu.
Keep safe, do your part.
Barry Rothstein
I send out a weekly email of these. If you'd like to be included, please go to the contact page and send me an email.
Previous Images of the Week