Image of the Week
06-04-2022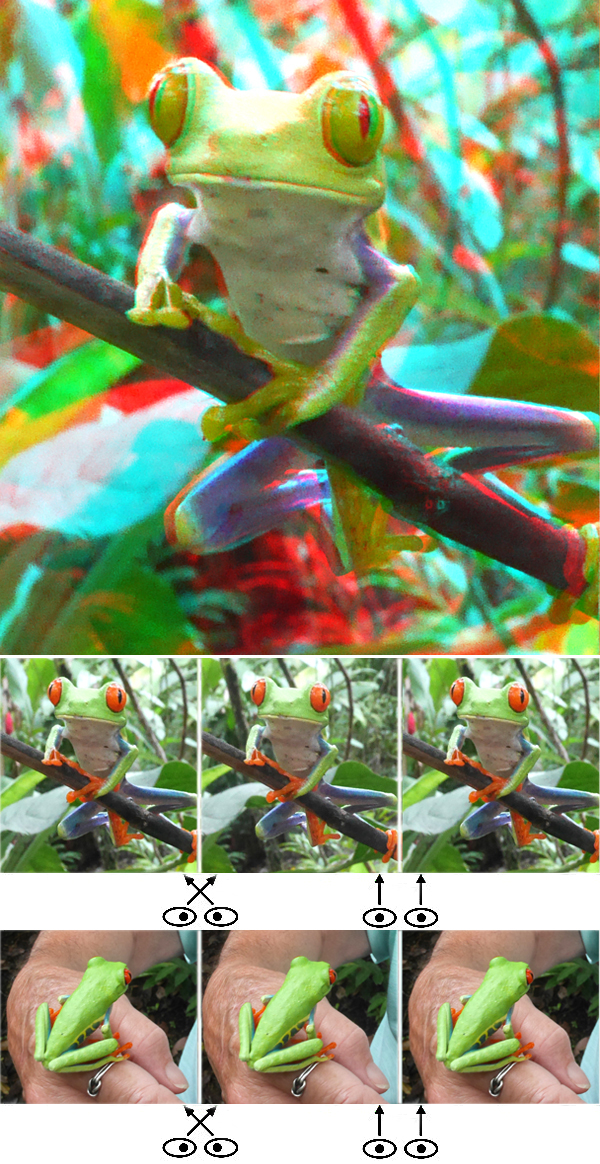 Red Eyed Frog at Bogarin Trail

Hello Friends,
In La Fortuna, Costa Rica, we got a guided tour of Bogarin Trail. Jason, our guide was outstanding. One of the first things he did was locate to a red-eyed (aka Gaudy) free frog he's spotted earlier and showed him/her/it to us, as it blended in perfectly with a green leaf. From that point I annoyed the poor froggie shooting several macro phantograms of him/her/it as it clung to a stick. A couple of times it jumped on Betsy trying to escape, but Betsy's a trooper and loved it. I'd strongly recommend the Bogarin Trail hike. It's easy to get to, easy walking, and we saw more animals than anywhere else, including lots of birds, reptiles, and several sloths. Jason was quick and adept at placing our cellphones over his spotting telescope, so we got some pretty cool videos of sloths and other animals on our phones.
This is a "dubois" anaglyph, created in StereoPhoto Maker, due to the difficulty of making good anaglyph images that contain much red. I took the images with a Panasonic Lumix GX7 with 3-D lens, using frame sides in the top image but not in the bottom one.
Regards,
Barry Rothstein
I send out a weekly email of these. If you'd like to be included, please go to the contact page and send me an email.
Previous Images of the Week