Image of the Week
07-14-2018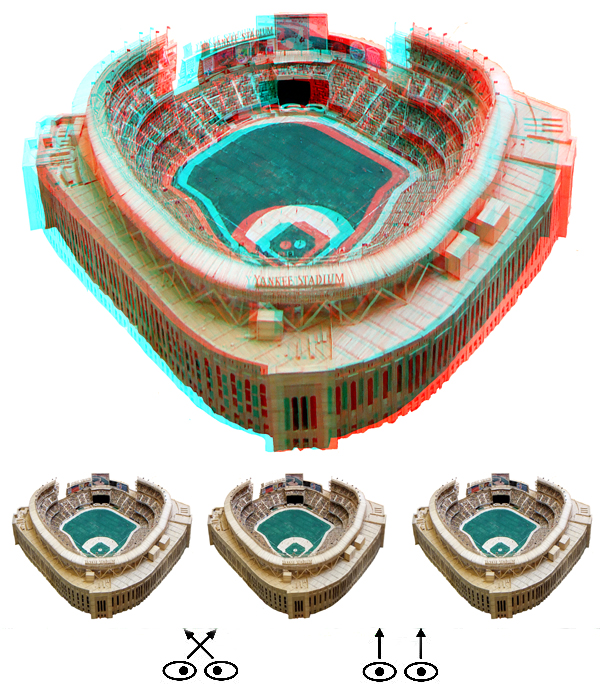 Model of Yankee Stadium

Hi All,
It's summer and baseball occupies a disproportionate amount of my waking thoughts. Today's image is a 1:164 scale model of Yankee Stadium by Stan Munro, made from toothpicks. Stan spent three months building it, and is well known in the museum world for his numerous scale models of famous buildings made from toothpicks. I previously showcased another of Stan's pieces back in 2012 at the New York Maker Faire of Wat Arun in Bangkok, Thailand.
This Yankee Stadium image is not a phantogram, as I wasn't able to shoot from a good enough angle with usable backdrop information to form one, but I still value it greatly as a traditional 3-D image. It was shot with a Fuji W3 and I masked out the backdrop. Check out more photos of Stan's phenomenal art at http://toothpickworld.com.
I created note cards of Stan's Wat Arun model. It's phenomenal for anaglyph 3-D, and I still have quite a few left. If you'd like one email me back with your address, I'll send out up to 20 of them as a postcard to the first responders (USA only please, or foreign if you paypal barry@3ddigitalphoto.com $2 the postage).
Barry Rothstein
I send out a weekly email of these. If you'd like to be included, please go to the contact page and send me an email.
Previous Images of the Week