Image of the Week
03-17-2012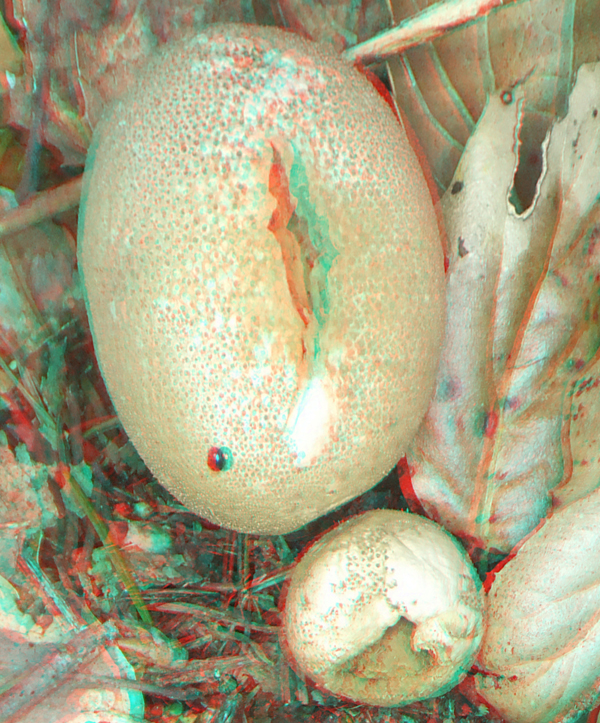 Ground View

Hi All,
A couple of weeks ago I went up to shoot in Sebastapol, home of O'Reilly Media, publishers of many technical books, and producers of the Maker Faire. We shot for an upcoming edition of Make Magazine, and in the not too distant future I'll feature one of the images we did there.
This image came from the yard of a home in the quaint and beautiful town of Occidental. For the past several years, unlike most nature photographers who look for spectacular broad vistas, I've spent much of my time looking down at the ground for interesting images. This appears to be a seed, or possibly some sort of fungus. If you know, please tell me.
This is a phantogram. You're welcome to print it out, so you can see it properly, back from an angle. It should also look very nice on an iPad or an Android. Keep in mind it's only 600 pixels wide, so blowing it up too large won't help its pop.
CALL FOR ENTRIES: in the "First Annual Inter-Gallactic Phantogram Competition and Exhibit". Entry deadline is May 15, 2012. I've announced it on some of the 3-D sites, and I invite you to spread the news. Stereographers Achim Bahr, Terry Wilson, and Steve Hughes will be the panel of judges. Categories are be: 1) Nature; 2) Live Subject; 3) Still Life; and 4) CGI. Images will be judged on iPads, and are to be submitted in RGB .JPG files. The iPad's native resolution is 1024x768 pixels, and images can be submitted either in vertical or horizontal orientation. Submitting images denotes a willingness to have them posted online, and to be exhibited in print or digital form. You may be asked for higher resolution images for print in a gallery exhibit. There will be prizes for winners, although expect mostly the glory of having your images admired. A maximum of six images per entrant will be allowed, and each will be allocated to one or more categories as applicable.
Barry Rothstein
I send out a weekly email of these. If you'd like to be included, please go to the contact page and send me an email.
Previous Images of the Week