Image of the Week
01-15-2022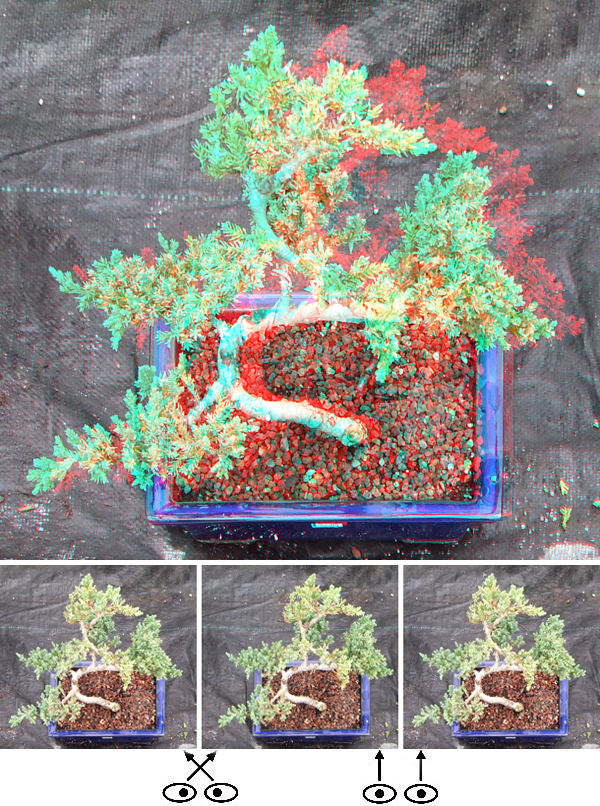 Juniper Bonsai

Hello Friends,
Yesterday a friend told that Long Beach has a well known bonsai nursery, so today I dropped House of Bonsai in Lakewood, California. It was a pleasure to see the number and variety of bonsais they grow, and very reasonably priced. Juniper bonsais such as this range from $15 to $95 and more.
The rectangular pot in this shot looked to be around eight inches wide by five inches deep. It was cloudy today, so I was working with dim diffused mid afternoon light. This shot was point-and-shoot with a Fuji W3, approximated into a phantogram by guessing and matching up pixels.
House of Bonsai reminded me of my visit to Fuku-Bonsai in Kurtistown, Hawaii. If ever on the big Island, stop by there. You can see the schefflera bonsai I shot there at http://3ddigitalphoto.com/ImageofTheWeek.asp?week=03-23-2019. Regards,
Barry Rothstein
I send out a weekly email of these. If you'd like to be included, please go to the contact page and send me an email.
Previous Images of the Week