Image of the Week
07-11-2020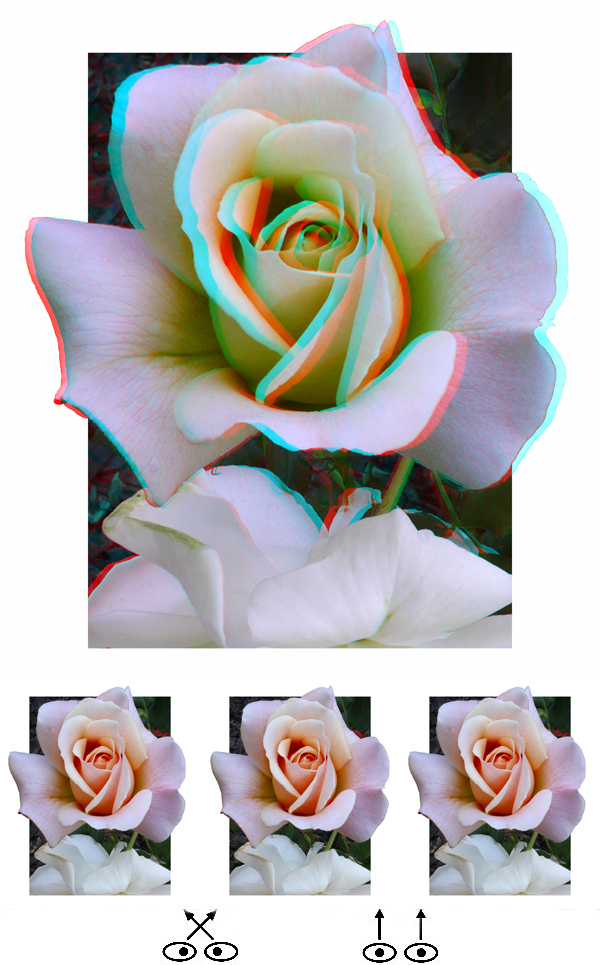 A Rose by Any Other Name

Hi All,
Here's another image I took recently during my neighborhood walks. I shot it with a Panasonic Lumix GX7 with a 3-D lens, using frame sides for phantogram processing. The width of this image was approximately four inches. Because of the pink color of the rose, I chose to go with a "dubois" anaglyph, but you can see the flower's natural color in the freeview images below the anaglyph.
If you'd like to see this image and several other macro shots I've recently taken blown up and exhibited, they'll be part of a gallery exhibit that includes my work and that or other Long Beach photographers. "Photovarious" will be from Saturday, August 8 through Saturday, September 5 at the LBCG/Rod Briggs Gallery at 2221 E. Broadway, and partnered by MOLAA.
Our country's judicial climate and rule of law took another massive hit this week with William Barr's Justice Department's continued assault on US Attorney offices. Barr completed a trifecta of plunder, having removed the US Attorney in Washington D.C., the Southern District of New York, and yesterday the Eastern District of New York, in other words, the three offices investigating Donald Trump, his businesses, and his allies. But this wasn't enough for Trump, as he was asked by Roger Stone to commute his prison sentence, and gladly complied.
From all polling indications Trump and several of his republican enablers in the Senate and House are going down big in November, but that won't keep them from doing considerable damage to our country in the meantime, all that in the midst of a historic pandemic which they can't and won't address responsibly. As much as I disliked the administrations of Nixon-Agnew and Bush-Cheney, the evil they imparted on us is pale in comparison to Trump-Pence, and the extent of damage the next administration will need to address will be vast.
Barry Rothstein
I send out a weekly email of these. If you'd like to be included, please go to the contact page and send me an email.
Previous Images of the Week