Image of the Week
07-01-2023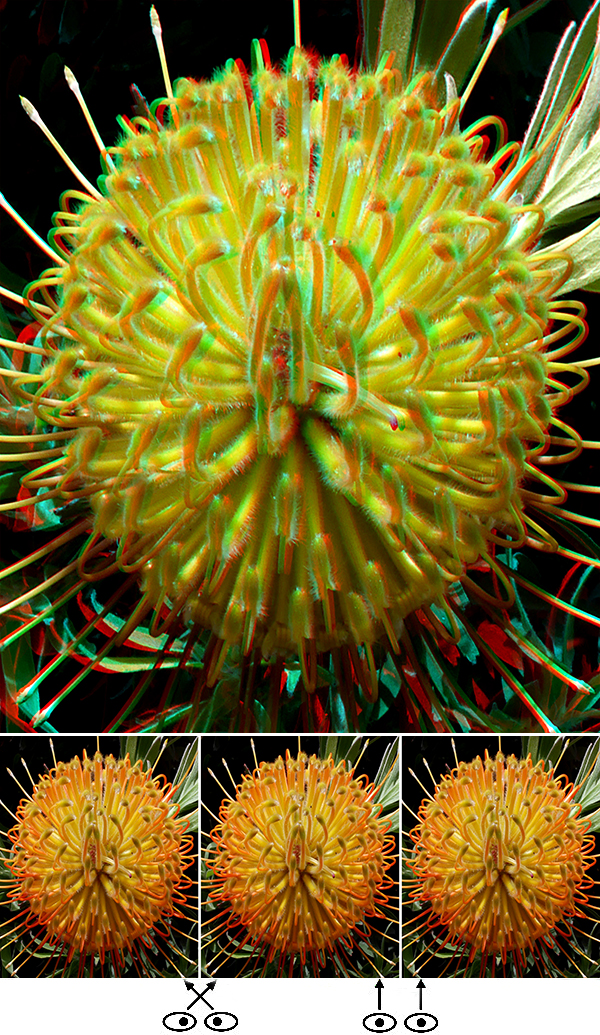 Another Red Pincussion Protea

Hello Friends,
I often try to take neighborhood routes on my dog walks that I haven't covered recently, and occasionally it pays off in finding good photo opps. In this case I found a huge protea bush with well over one hundred flowers. This is a Leucospermum cordifolium aka red pincussion protea. It doesn't make for great anaglyph so I hope you can freeview it one way or the other in the Right-Left-Right 3-set below. In StereoPhoto Maker I chose to use a half-color anaglyph hoping to make it at least bearable with the red-cyan glasses.
Just a few weeks back at a different location I found another of this species, and you can see that image at http://3ddigitalphoto.com/ImageofTheWeek.asp?week=04-22-2023. Hoping you don't mind a little duplication, but I like both shots.
Spring is over here, summer just coming into focus. On Monday we're heading up to Alaska where I hope to find some good blossoming plants.
I took this shot with a Panasonic Lumix GX7 with a 3-D lens, using frame sides for phantogram processing.
Regards,
Barry Rothstein
I send out a weekly email of these. If you'd like to be included, please go to the contact page and send me an email.
Previous Images of the Week