Image of the Week
01-21-2012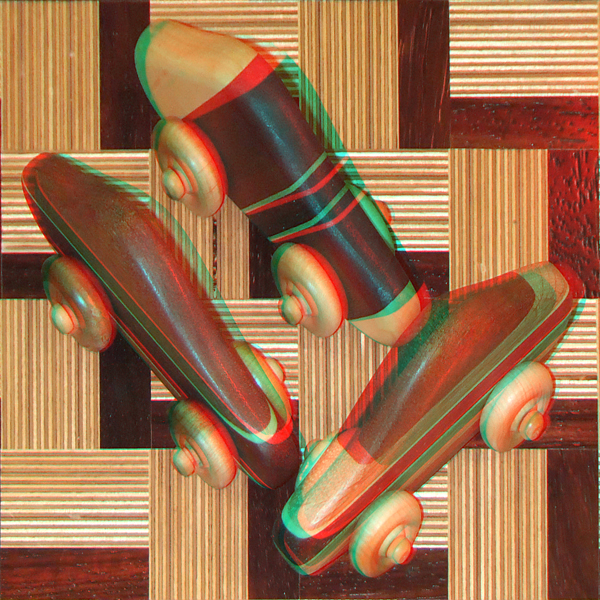 Toy Wooden Car -- David Levy Hardwood Creations

Hi All,
At the San Diego Holiday Art Festival this past December in Del Mar, California, Betsy and I were there selling our 3-D books, cards and such, along with around a couple hundred other artists also peddling their amazing wares. We sell treasures for peanuts. Among the booths was one showing beautiful hardwood pieces. Functional cutting boards, tabletops, kitchen wonders, toys, etc. I immediatly envisioned this shot, the cutting board offering itself up as a perfect phantogram frame.
You may enjoy looking at David's website . His creations are thoughtful and original.
If you want to take a shot at making a phantogram, email me and I'll email you back original left & right of this shot. You'll need photoshop CS any version.
This image is a phantogram, and you're welcome to print it out, so you can see it properly, back from an angle. Better yet, enjoy it on an iPad!
CALL FOR ENTRIES: in the "First Annual Inter-Gallactic Phantogram Competition and Exhibit". Rules will follow. Not much more in details yet, soon to come. Entry deadline is May 15, 2012.
One alert reader asked about the 'inter-galactic' aspect of it, so I clarified. While I expect that all the entries will come from our galaxy and just as likely this planet, but I don't want to rule anyone out.
Barry Rothstein
I send out a weekly email of these. If you'd like to be included, please go to the contact page and send me an email.
Previous Images of the Week