Image of the Week
05-13-2017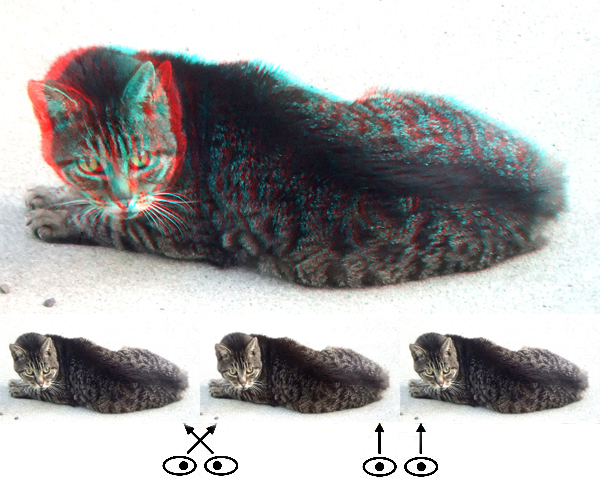 Kitty Kitty
Hi All,
Walking my dog Pepper in our neighborhood, this cat was lying comfortably on the sidewalk in front of its house, a fence between it and Pepper, but still keeping a wary eye on our passing.
This was shot with a Fuji W3 and I used environmental cues (texture of the sidewalk) to approximate it into a phantogram.
Next week is Maker Faire in San Mateo, so if you're headed that way drop by our 3-D village. I'll be doing phantogram head shots and other 3-D shooting, giving you the opportunity to work with me and learn to make them yourself. I'll also be selling imperfect copies of Phantograms from Nature and Pop-Up 3D, and perfect copies of Crossview 3-D, all for the ridiculous price of just $5 per book, 90% of which will be donated to Planned Parenthood, the Environmental Defense Fund, American Civil Liberties Union and Southern Poverty Law Center.
Barry Rothstein
I send out a weekly email of these. If you'd like to be included, please go to the contact page and send me an email.
Previous Images of the Week