Image of the Week
08-08-2020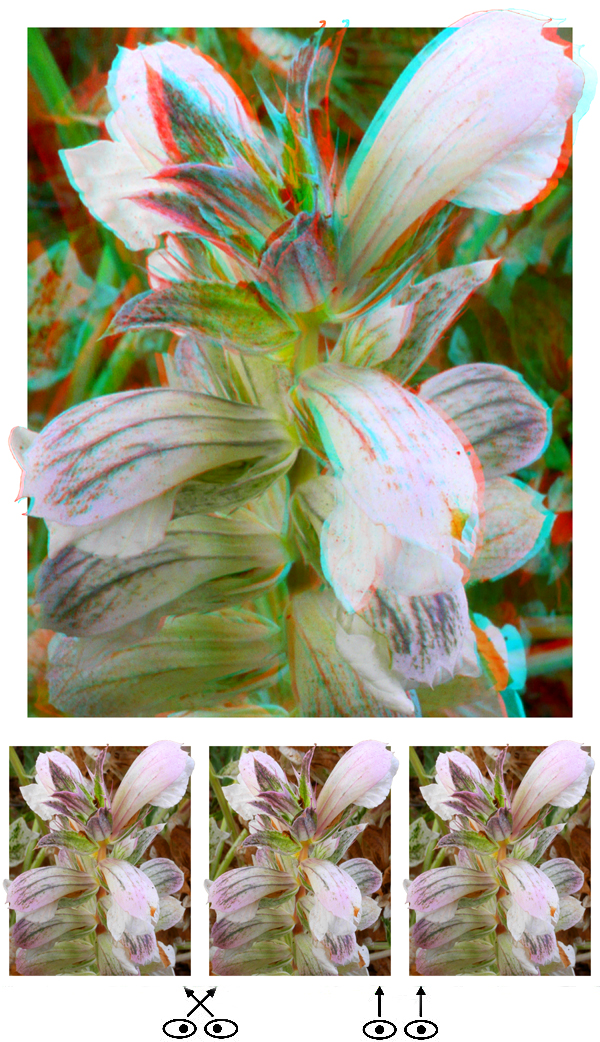 Another What's This? And a short rant

Hi All,
Here's another neighborhood macro shot, taken with a Panasonic Lumix GX7 with a 3-D lens and frame sides for phantogram processing. For the botanists in the know, please let me know what this plant is. According to our local orchid expert James Comstock, last week's rain forest "Ghost Flower" was "... known by many names: Pacific Trillium or Western Trillium. Itís botanical name is Trillium ovatum."
I mentioned a couple of weeks ago that I was considering producing another book, same size and quality to my first book, "Phantograms from Nature," the new book being of macro phantograms. It should be pretty cool. The working title at this point is "Macrophant 3-D", and I've decided to go ahead with a limited run of 1000 books. I'll repeat here that if you think you'll be willing to plunk down $25 of your hard earned cash (includes media mail postage in the USA, if the US post office still exists), please reply and I'll add you to a list of people to notify when they're available. They should be ready well in time for this year's holiday season.
I have to give credit to Mr. Trump, he's going for it with all he's got to turn America into an authoritarian regime under his control. William Barr has politicized the Justice Department, as has Mike Pompeo the State Department. In a bizarre leak this week, it was told that Pompeo did push back a few weeks ago at the Russian ambassador Sergey Lavrov over Russia putting bounties on US and allied soldiers, but Pompeo did so secretly so as not to not let Trump know about it and anger him.
Perhaps the Trump administration's ugliest and most brazen move this past week was the new Postmaster General Louis DeJoy's firing and re-assigning twenty-three postal executives, that after numerous reports of DeJoy's new policies have slowed down the mail, and threaten the USPS's ability to successfully manage getting out mail-in ballets before the upcoming November election, and processing them for the election.
All this amid a global pandemic which the USA leads in cases and deaths by a very wide margin. A south Texas health official commented this week that we have two epidemics at play, Covid 19, which he has some ability to control, and stupidity, over which he has no control.
It appears that there will be a big electoral shake up in November, but with rampart partisan manipulations and voter suppression afoot, it's hard to say which way it will go. So as a final note, if you want to wake up next year in an America resembling the one you grew up in, it's time to think about what you're doing to help, and what you'll want someday to tell your grandchildren about it.
Barry Rothstein
I send out a weekly email of these. If you'd like to be included, please go to the contact page and send me an email.
Previous Images of the Week