Image of the Week
06-11-2016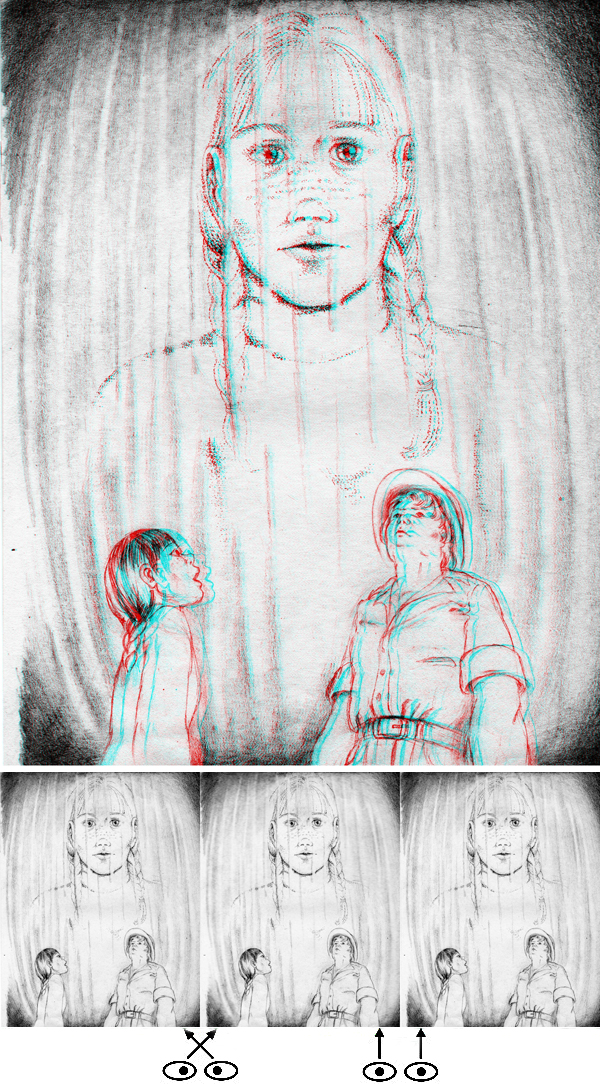 The Prime Celf - My Children's Novella from 1980
Illustration by Betsy Rothstein and 3-D conversion by William3D

Hi All,
Back in 1978 I moved to Seattle, and soon afterward met my bride-to-be Elizabeth Anne Martin (aka Betsy), a talented and beautiful artist, singer, and dancer. I conceived the idea for a children's novella I called The Prime Celf, ambitiously envisioned as the first book in a series to be called Tales from the Innerworld.
In 1980 I'd completed the first draft and Betsy drew a number of rough illustrations, fleshing out the characters. Over the years I've made a number of re-write attempts, none brought to satisfactory completion. My writing is at times good and often weak, but I think the story is very good and as relevant today as it was in 1980. I've decided to let it out, serialized in four parts. I'm presenting it in its rawest form, scanned, typewritten, notated pages of its first draft from 1980, along with Betsy's rough illustrations.
You can find the website I created for it, Betsy's illustrations, and a link to Part 1 of The Prime Celf at http://theprimecelf.com.
This illustration above was penned by Betsy, and William3D did a nice 2D to 3D conversion of it. If you're looking to have a 2-D image converted to 3-D at a reasonable price, check out William3D at http://www.william3d.com or email him at 2dto3dphoto@gmail.com.
I'd love to hear back from anyone reading the story, and please pass on the link if you like it. Ideally I'm looking to find a partner or partners for collaboration and bring it to fruition. A new segment will be released each of the next three weeks.
Barry Rothstein
I send out a weekly email of these. If you'd like to be included, please go to the contact page and send me an email.
Previous Images of the Week