Image of the Week
08-01-2020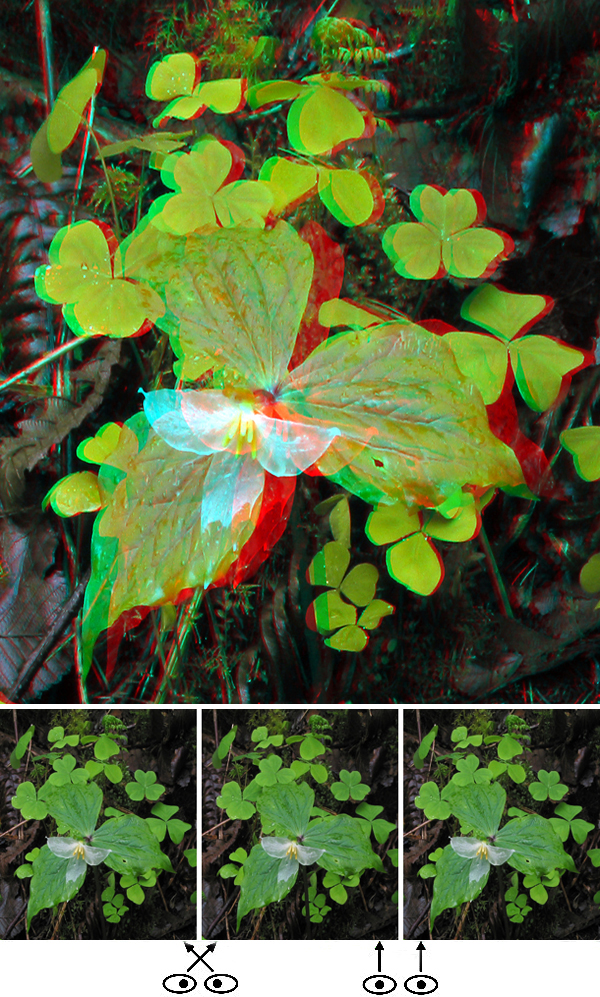 Ghost Flower

Hi All,
After first experiencing photographic phantograms at the 2004 National Stereoscopic Association's convention, it was indeed a life changing event for me that Steve Hughes presented a workshop there on how to make them. I started experimenting with phantograms that autumn, my first attempts being simple "tabletop" shots of household items.
Soon after that I turned my attention to nature phantograms. After producing a number of successful nature images from my local area, I drove up and down the Pacific coast hunting good shots. This one was taken at the Quinault Rain Forest on the Olympic Peninsula in Washington state. I was attracted to the delicate, translucent petals of this blossom surrounded by deep verdant green clover of the forest floor.
The result of these efforts was Phantograms from Nature, my first book, published in 2005. I didn't include this image in the book, mainly because it didn't look good in anaglyph after being converted from RGB to CMYK. Sadly a great many anaglyphs don't survive that conversion well, but still look pretty good on RGB devices. This image was shot with a Canon G2, using a home-made slidebar and metal picture frame sides for phantogram processing. I hope you like it.
I don't have much to say about politics this week, other than to say it's been as ugly as ever. My mind is numbed by the sameness of our day-to-day during the pandemic. I can't ignore the news, but will try to focus on things around me where I can have a positive impact. We are heading into the roiling, turbulent waters of an election unlike any in our lifetimes, with consequences reaching far beyond our lifetimes.
Barry Rothstein
I send out a weekly email of these. If you'd like to be included, please go to the contact page and send me an email.
Previous Images of the Week