Image of the Week
05-30-2015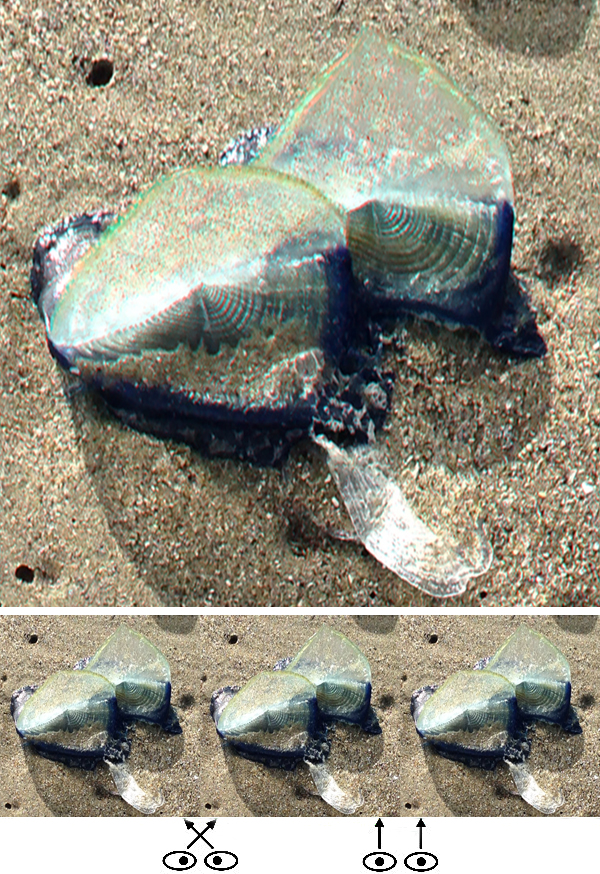 Portuguese Man O' War shot with an iPhone

Hi All,
This past Tuesday I started on a three-week road trip up the coast with my wife (meeting tomorrow in Seattle) and our dog Pepper. Ultimate destination is Brittish Columbia. First stop was Morro Bay, where I got together with fellow stereographer Abe Perlstein. Abe has a weekly radio show on 97.3 "The Rock", a Morro Bay community station, so he interviewed me between songs, and I did head shots of him and another radio DJ in their parking lot.
Later we headed a little north to a dog beach near Cayucos. All over the shore were Portuguese man o' wars, some still live. I'd left my cameras in the car, but following Abe's lead I decided to try to get the job done with hand-held "cha-cha" shots on my iPhone 5C, and roughly drawn rectangles in the sand for my phantogram frame sides. This is the result. Not exactly great 3-D, but not entirely bad either.
Barry Rothstein
I send out a weekly email of these. If you'd like to be included, please go to the contact page and send me an email.
Previous Images of the Week